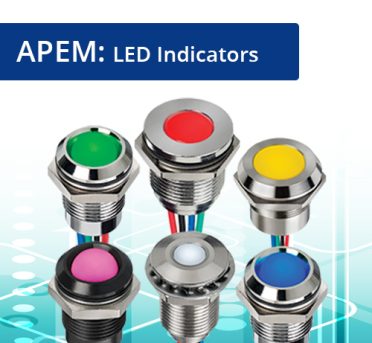 APEM New RGB LED Indicators
APEM has expanded their selection of LED indicators by upgrading the Q series range with RGB LED indication, high-quality and energy-efficient as one LED provides seven different colours. Using glare free diffused flat and round LEDs, the new Q series give the customer limitless adjustable uniformed lighting options. With combined illumination and indication with intense RGB light output.
RGB indication provides the user a whole new range of LED design options, with it's three primary colours red, green and blue these colours can be mixed o provide four more colours such as cyan, magenta, yellow and white which can be mixed again to further provide a multitude of hues finely tuned for custom options and applications.
Distinctive features:
RGB provides a new bolder and brighter status indication
Colour animations will need to be controlled by the customer
Flush and prominent the RGB LED's fit Q10, Q14, Q16, Q19 and Q22 bezels
4-wires common anode means these are only accessible in terminal option 5
Standard 200 mm wire and series wire gauge
For specials or common cathode input please contact us or send us the CPI request
Front panel sealed to IP67
Rear epoxy sealed
View all LED Indicators here.