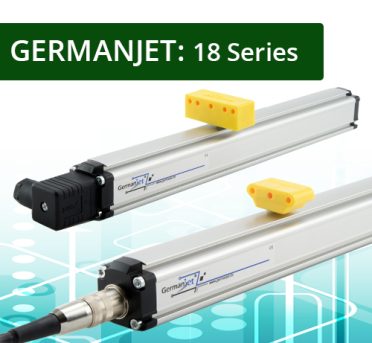 Germanjet 18 Series Magnetostrictive Sensor
The Germanjet 18 series non-contacting absolute linear sensor adopts the non-contacting magnetostricitve measuring technology for precise, direct and absolute measurement. The absence of electrical contact on the cursor eliminates all wear and guarantees almost unlimited mechanical life expectancy. The non-contact (Floating) cursor provides exceptional ease of installation with a variety of available cursor position target.
The high versatile profile housing offers full protection against outside agents for use in harsh environments with high contamination and presence of dust. Mounting is accomplished using clamps that allow precise mechanical adjustment.
View more Germanjet Sensors here.