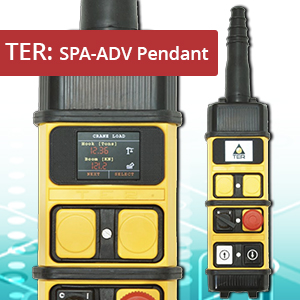 TER SPA-ADV: SPA Pendant with colour display
The TER SPA Pendant Control Station has been their most successful pendant control series in the industrial lifting and handling machinery market, inspiring them to introduce an upgraded version, the SPA-ADV series which comes with an integrated data acquisition system to benefit the operators use. Designed to condition and amplify signals from many transducers, where the data can then be processed and made available as a digital or analogue protocol, and directly at the same time be displayed on the LCD screen.
SPA-ADV PENDANT FEATURES:
High-resolution colour graphic display
Available with overload monitoring functions of 2 programmable set-points for each of the 2 relay contacts
Equipped with an extremely stable transducer generator excitation
It is specifically designed to read and measure load cells, strain gauges, pressure transducers, PT100, PT500 potentiometric displacement transducers, conditional LVDT and more.
Download the data sheet here.